LABORATORY
Laboratory
1).An in-house laboratory with modern analytical instruments for chemical, microbiological and toxicological studies.
The analysis of industrial hygiene survey samples,blood and urine from occupational health programme and environment samples are analysed.Training of the Diploma in industrial Hygeine & Post Graduate Diploma in Environmental pollution control technology on instruments and demonstration instruments and equipments for groups of trainees with academic interest are held on prior intimation.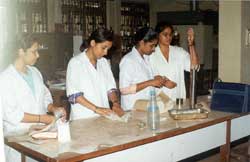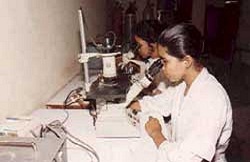 2).Mobile laboratory for occupational health surveillance programme.
The occupational health laboratory the only one of its kind in the country under the State Government carries out pre-employment and regular medical checkups at the factory site through the uniquely designed medical Occupational Health van. The medical checkup includes medical history, anthropometric measurements, spirometry, clinical investigations, audiometry tests, vision testing, chest X-ray and biological analysis. The data is stored as soft copies and hard copies and are made available to the workers.
Occupational Health Laboratory - Services Offered:-
Pre-Employment Medical Examination.
Periodic Medical Examination.
Pre-placement Medical Examination.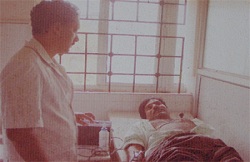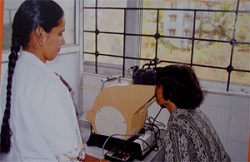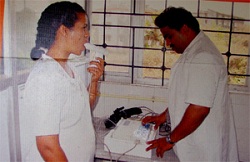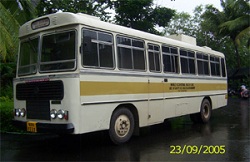 Is equipped with X'ray unit for full size chest X'rays ,Vision testing instrument, audiometer, spirometer, e.c.g machine and facilities for blood/urine sample collection and clinical examination .
Anthropometry
Body Mass index
Clinical Examination
Otological Examination
Examination of Hernial Sites
Audiometry
ECG
X ray Chest
Titmus Vision Test
Near Vision
Far Vision
Color Vision
Stereoscopic Vision
Perimetry
Spirometry
Tidal Volume
Forced Vital Capacity
FEV
3). Mobile laboratory for industrial hygiene surveys cum emergency van.
Due to excellent facilities available the laboratory has been declared as a reference laboratory under the environment (Protection) Act 1986 by the Ministry of environment and forests, New Delhi. The laboratory facilities are used for teaching and conducting practical examination by the Goa University for Diploma in Occupational Health and Post Graduate Diploma in Environmental Pollution Control Technology Courses. The mobile laboratories are unique in their design, and are suitable for Indian road conditions. The laboratory set-up also provides for sampling and analytical equipments to cover environmental monitoring. In fact, this laboratory has been declared as reference laboratory under the Environment (Protection) Act by the Ministry of Environment and Forests, New Delhi.
The mobile laboratory for industrial hygeine surveys cum emergency van houses.
Sampling and analytical instruments like air samples, sound level meter, noise dose meter, velometer, luxmeter, kata Globe thermometer, explosimeter, HC-CO monitor etc. Equipment such as stoppage of gas leaks kits, p.p.e, stretchers, fire fighting cylinders are available for emergency situations on the emergency van.
In the last two years, the Industrial Hygiene Laboratory has commenced a programme of conducting industrial hygiene surveys at the factories with a view to improving the work conditions at the workplace. The laboratory has capacity for monitoring toxic gases, dusts, heat stress, noise level, illumination and other stress factors experience by workmen. Goa is the only state where industrial hygiene surveys are carried out regularly by the Inspectorate of Factories and Boilers. More than 100 surveys have been carried out in the last three years in various types of factories. At present a study on the hazards of steel units is being done to improve the safety, health and environment conditions in the steel industry. All the steel units manufacturing ingots, steel rolling, cast iron manufacturers, pig iron and allied works has been covered by the industrial hygiene laboratory. Analytical tests are being carried out in the laboratory:
Physical
Chemical
Radioactive
Microbiological
Any other (Please specify)
Sound level Measurement
Heat , Ventilation, Explosive gases